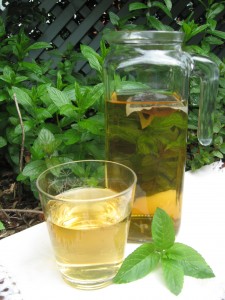 Warm weather is upon us, and what better way to re-hydrate than with a delicious, home-made iced tea that takes minutes to prepare.
Most commercial drinks have too many ingredients that simply aren't good for you. All you need for this recipe are peppermint-only tea bags, saccharin tablets and water.
Don't worry, saccharin isn't the cancer-causing bad guy we were led to believe. Turns out it's only bad for you if you happen to be a rat; it does not cause cancer in humans. Saccharin was de-listed as a carcinogen by the FDA in 2000, and Canada is in the process of reinstating it as a sweetener in foods. It is the only artificial sweetener approved for the Specific Carbohydrate Diet (SCD). If you still don't want to use sacharin, try honey instead, the other SCD-legal sweetener.
Here's a recipe for mint iced tea. I make two litres (quarts) every day in the summer; it is refreshing and the kids love it. The mint is helpful if you have mild stomach upset. Add fresh-squeezed lemon juice for a boost of vitamin C, or substitute honey, for extra energy. A dash of salt helps replace lost electrolytes.

By:
Theresa, HealthAgainstTheGrain.com
Prep time:
Cook time:
Total time:
A quick, refreshing, frugal alternative to store-bought drinks.
Ingredients
1 litre (or quart) of good tap or filtered water
1 mint tea bag (I use Celestial Seasonings)
6 saccharin tablets (I use Hermesetas)
Instructions
Add tea bag and saccharin tablets to a one litre (or quart) glass jar.
Pour cold water into the jar.
Wait a few minutes for the saccharin tablets to dissolve, then stir to distribute.
It is ready to drink in about 10 minutes.
Remove the tea bag after one day. Keeps for 2-3 days refrigerated
Notes
1. substitute 2 tbsp. honey for the saccharin; mix with hot water first to dissolve before adding to the glass jar, then top up the jar with tap water; 2. add the juice of half a lemon for extra zing and vitamin C (my favourite); 3. add ⅛ tsp of sea salt to replace your electrolytes
Hermesetas can be found in the diabetic section of most drug or grocery stores; sometimes you have to ask, and they will order it for you. Or you can order it
online
.